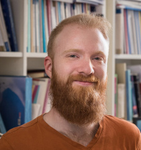 TAMARIT Daniel
Theoretical Biology and Bioinformatics, Utrecht University, Utrecht, Netherlands
Bioinformatics dedicated to microbial studies, Biology of understudied microbes (viruses, archaea, ...), Genomic and evolutionary studies, Microbe-microbe and microbe-host interactions, Microbial ecology and environmental microbiology, Microbial extremophiles, Microbial symbiosis, Microbiomes
recommender
Recommendation:
1
Reviews:
0
Areas of expertise
Genomics; Phylogenetics; Phylogenomics; Symbiosis; Eukaryogenesis; Archaea; Asgard archaea; Genome architecture
Recommendation: 1
25 Apr 2023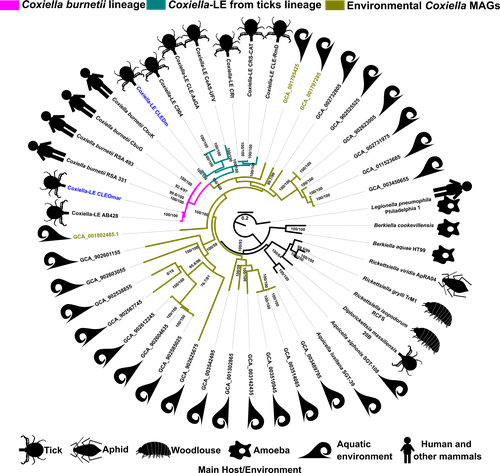 Genomic Changes During the Evolution of the Coxiella Genus Along the Parasitism-Mutualism Continuum.
Lifestyle transitions in endosymbiosis
Recommended by Daniel Tamarit based on reviews by

Sophie Abby

,

Adam Ossowicki

and 1 anonymous reviewer
Host-microbe symbioses are an essential component of many ecological systems, playing critical roles in the physiology and evolution of all involved partners. In this context, the bacterial family that includes Coxiella burnetii, the causative agent of Q fever, is of particular interest. The Coxiellaceae family is a complex group with members that have adopted a variety of specializations. Closely related lineages to C. burnetii are tick mutualists (Coxiella-like endosymbionts) and aquatic bacteria that may include both free living and symbiotic species. Additionally, four related genera within this family include symbionts of insects and amoebae. Exactly how and when pathogenicity and mutualism evolved in this lineage is not clear, thus remaining a valuable line of enquiry that can help establish general principles on these lifestyle transitions.
A new study by Santos-Garcia and colleagues (2023) places the spotlight on this bacterial group, obtaining new insights through comparative genomics. The authors add two genomes, one of them a circular contig representing a highly reduced (0.9 Mb) chromosome, that increase the resolution of key branches in the Coxiella evolutionary tree. These include a sister group to C. burnetii and the group immediately subtending them, both entirely containing Coxiella-like endosymbionts. By analyzing genetic potential for metabolism, cell dimorphism, virulence and acidophily, the authors find evidence for the ancestrality of genes associated with a pathogenic lifestyle, and support a scenario by which mutualism arose multiple times in a parasitic lineage. In this context shines a pathogenicity island acquired in the common ancestor of this group and subsequently eroded in mutualistic lineages. This scenario highlights the importance of pre-adaptations that facilitate evolutionary specializations, such as the capabilities for B vitamin biosynthesis (key feature in the adaptation to a mutualistic relationship with organisms with B-vitamin-poor diets) and pH homeostasis (harnessed by C. burnetii for infection).
Microbial groups at the crossroads of parasitism and mutualism help us understand the mechanisms underpinning these evolutionary strategies (see e.g. Drew et al, 2021). Transitions in endosymbiosis, including shifts in the parasitism-mutualism continuum, adaptation to new partners, or switches between free-living and host-associated lifestyles, affect the structure of ecological networks, and understanding them can yield crucial insights into how to manipulate microbial symbioses for health outcomes, sustainable agriculture or ecosystem conservation. The Coxiellaceae, by including a diverse set of mutualistic, parasitic and possibly free-living lineages, are a fantastic model group to tackle these questions. Together with other host-associated bacteria, such as Sodalis (Clayton et al, 2012) or Pantoea (Walterson and Stavrinides, 2015) species, these ecologically diverse microbes are valuable assets in the quest to decipher the molecular basis of lifestyle transitions in endosymbiosis.
REFERENCES
Clayton, A.L., et al (2012). A novel human-infection-derived bacterium provides insights into the evolutionary origins of mutualistic insect–bacterial symbioses. PLoS Genetics, 8: e1002990. https://doi.org/10.1371/journal.pgen.1002990
Drew, G.C., Stevens, E.J., King, K.C. (2021). Microbial evolution and transitions along the parasite-mutualist continuum. Nature Reviews Microbiology, 19: 623-638. https://doi.org/10.1038/s41579-021-00550-7
Santos-Garcia, D., et al. (2023) Genomic changes during the evolution of the Coxiella genus along the parasitism-mutualism continuum. bioRxiv, 2022.10.26.513839, ver. 4 peer-reviewed and recommended by Peer Community In Microbiology. https://doi.org/10.1101/2022.10.26.513839
Walterson, A.M., Stavrinides, J. (2015). Pantoea: insights into a highly versatile and diverse genus within the Enterobacteriaceae. FEMS Microbiology Reviews, 39: 968-984. https://doi.org/10.1093/femsre/fuv027