BARNARD Romain
Agroecology, INRAE, Dijon, France
Microbial ecology and environmental microbiology
recommender
Recommendation:
1
Reviews:
0
Areas of expertise
Precipitation pattern effects on plant-soil interactions, soil C and N cycling, soil trace gas exchange
Recommendation: 1
02 Mar 2023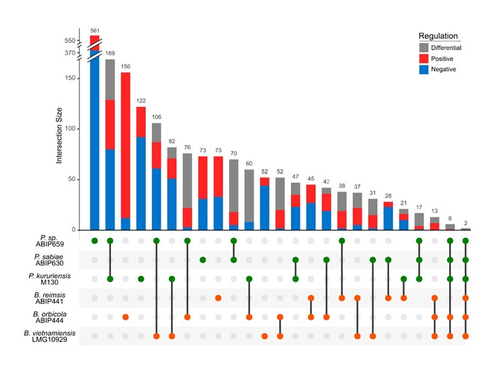 Comparative genomics and transcriptomic response to root exudates of six rice root-associated Burkholderia sensu lato species
Burkholderia strains go it alone
Recommended by Romain Barnard based on reviews by

Vittorio Venturi

and 1 anonymous reviewer
The Burkholderia sensu lato group is predominant in the rhizosphere of rice. It includes both plant growth promoting rhizobacteria (typically members of the Paraburkholderia genus) and phytopathogens (typically members of the Burkholderia genus). Better understanding the interaction between Burkholderia sensu lato and their host plant is therefore crucial to advance our knowledge of the ecology of rice, a plant that feeds more than half of the humans on the planet.
The perception of root exudates from their host is key for rhizobacteria. Is the response to root exudates more related to the phylogeny of the bacteria, i.e. genus-dependent, or is it strain-specific? This question is not trivial for the Burkholderia sensu lato group, which has experienced shifting outlines over the last twenty years. During the early stages of rice root colonization, Wallner et al. [1] investigated the transcriptomic regulation of three strains of each Burkholderia and Paraburkholderia genera, in addition to a genomic comparison, in order to better understand their early colonization strategies.
While these six strains possess a large proportion of gene homologues, their experiment shows their response to root exudates to be strain-specific. In the study, rice root exudates affected several metabolic pathways of interest in most strains, noticeably including i) the Entner-Doudoroff pathway, which had never been reported to be activated in relation to root colonization and ii) the putrescine pathway, which may reflect signaling controlling root colonization.
The work by Wallner et al. provides new insights on the strain-level response of the transcriptomic regulation of Burkholderia sensu lato in response to root exudates in the early stages of root colonization. Beyond this, the next steps will hopefully shed light on what happens in more complex environments, within a complex bacterial community and during later colonization stages.
Reference
Wallner A, Klonowska A, Guigard L, King E, Rimbault I, Ngonkeu E, Nguyen P, Béna G, Moulin L (2022) Comparative genomics and transcriptomic response to root exudates of six rice root-associated Burkholderia sensu lato species. BioRxiv, 2022.10.04.510755, version 2 peer-reviewed and recommended by PCI Microbiol. https://doi.org/10.1101/2022.10.04.510755